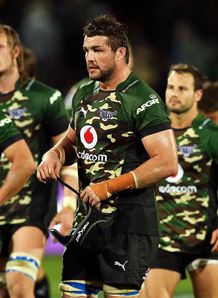 Related links
Teams
Also see
Bulls lock Flip van der Merwe has been suspended for three weeks for a foul committed in last weekend's loss to the Waratahs in Sydney.
A SANZAR judicial hearing has found the Bulls captain guilty of contravening Law 10.4 (a) Punching or striking after he was cited.
Van der Merwe has been suspended for three weeks up to and including Sunday May 11 2014.
The incident, in which Van der Merwe punched Waratahs prop Paddy Ryan, occurred in the 75th minute of the match which the Sydneysiders won 19-12.
The SANZAR judicial hearing held via video conference on Wednesday was heard by Adam Casselden who was assisted by former professional player, Eroni Clarke.
In his finding, Casselden ruled the following: "Having heard the submissions from the player's counsel, Stephan Weyers, receiving evidence from the players, Flip van der Merwe and Paddy Ryan and also reviewing the video footage a number of times along with other evidence, I found on the balance of probabilities that Van der Merwe did strike Ryan's nose with his hand, arm or fist but that no injury was sustained by Ryan by reason of Mr Van der Merwe's action.
"Having considered all the matters that are in Regulation 17.9.2, I was satisfied that a mid level entry point was appropriate, particularly considering the intent of Van der Merwe to strike Ryan and the vulnerable position Ryan was placed in at the base of a collapsed scrum in circumstances where he could not protect himself from Van der Merwe's action.
"A mid level entry point dictates a suspension of five weeks, but due to the player's good character, lengthy professional playing career and his relatively clean disciplinary record, I was satisfied that the five week entry point should be reduced to three weeks.
"Accordingly, the player is suspended from all forms of rugby from Saturday 26 April 2014 up to and including Sunday 11 May 2014."