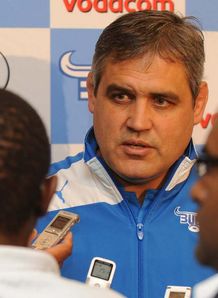 Related links
Teams
Bulls coach Frans Ludeke believes last weekend's loss to the Stormers in Cape Town could not have come at a better time.
Ludeke views that defeat - which cost them the top spot on the overall table - as a positive sign to wake his players up ahead of next weekend's semi-final in Pretoria.
"The right loss at the right time in this competition can be a good thing," he told Supersport
"Any team that goes through that, can take it to heart and make adjustments and come back stronger. The Stormers played some great rugby and were better than us on the day.
"We need to take what we can out of the loss and come back a better side."
Ludeke feels the biggest factor is to freshen up his players ahead of the semi-final which he expects to be a huge physical battle.
He also reminded his side's supprters that they were in a similar situation earlier this season.
"We lost badly in Christchurch earlier this year and we made adjustments to the team and the way we play, and we came back stronger.
"We know our setpieces weren't good enough in Cape Town and we need to adjust the way we play. The loss can be a positive thing.
"We are heading into a play-off where it is a once-off situation. The players will experience the pressure of the situation, and know the intensity is different to a normal league game.
"But we know what to expect and we will be ready."
The Bulls will also be boosted by the return of Francois Hougaard and Jan Serfontein - who both missed the defeat to the Stormers due to injuries - for the semi-final.
Flip van der Merwe, who was forced off early in that match with a groin injury, has been declared fit and will be joined by Paul Willemse and Grant Hattingh in contention for the two line-out spots.