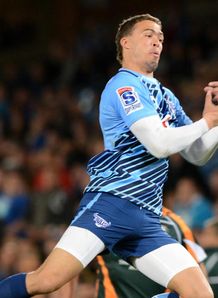 Related links
Teams
Bulls wing Bjorn Basson was found not guilty by a SANZAR judicial hearing for a dangerous tackle on Sharks fly-half Pat Lambie.
Basson was charged with contravening Law 10.4 (j) Dangerous Tackling - Lifting Tackling after he was cited for the incident which occurred in the 44th Minute of the match in Durban on Saturday.
No further sanction has been imposed on the Springbok.
The hearing was held via video conference on Monday. SANZAR Judicial Officer Adam Casselden heard the case and was assisted by former professional player Mike Mika.
"Having heard the evidence of the player and having watched the video footage a number of times of the incident I was not satisfied, on the balance of probabilities, that Mr Basson was in breach of Law 10.4 (j) of the Laws of the Game," Casselden said in his ruling.
"In forming this view I was ably assisted by Mike Mika who formed a similar view which was that I could not disregard the evidence of Mr Basson that he was trying to hold the tackled player up but lost control when he lost his grip. The citing was not upheld."