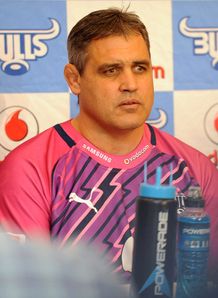 Related links
Teams
Bulls boss Frans Ludeke has signed a new three-year deal which keeps him at the Pretoria-based side until 2016.
"It was certainly very humbling when asked to stay on in this capacity," Ludeke said.
"I would like to believe that we managed to sustain the core values of rugby at Loftus Versfeld, where dedication and hard work, professionalism, passion and performance are part of the normal day of life.
"One can easily associate with the traditions of this proud union and team. The challenge will be to keep on honouring the drive to excellence and to sustain the winning culture and habit."
Ludeke, a former Cats and Golden Lions mentor, took over as Bulls head coach in 2008 and guided the team to two Super Rugby titles, in 2009 and 2010, and a play-off spot in 2012.
He also took the Pretoria franchise's Currie Cup team to victory in 2009 as they secured a unique double that year.
A total of 16 Bulls players have been promoted to the Springbok team during Ludeke's reign and he was keen to have this tally extended.
"Coaching is certainly not only about winning trophies, but also about developing players and people, and when their abilities are rewarded at national level, it is a feather in the cap to all concerned," he added.
Blue Bulls CEO Barend van Graan is pleased that his organisation secured Ludeke's services for a longer period.
"This is fantastic news for us as a union wanting to stay at the top," Van Graan said.
"To achieve that, you need to have a great coach -- one of the best in the business -- and I am happy that we managed to secure that.
"Frans has a track record with us, but not only that, he has extended the principles of performance and delivery and we have to admire that."