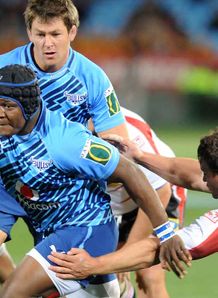 Related links
Teams
A SANZAR Judicial Hearing has found Bulls hooker Chiliboy Ralepelle not guilty of contravening Law 10.4 (h) and 10.4 (k) after he was cited following the Super Rugby win over the Western Force.
No further sanction has been imposed on the Springbok front rower.
The incident occurred in the 11th minute of the match between the Bulls and the Western Force at Loftus Versfeld in Pretoria on 2 March 2013.
The SANZAR Judicial Hearing was held via video on Monday.
Video evidence of the incident was viewed and the evidence of the referee and the Citing Commissioner were presented during the hearing.
The hearing found that: Ralepelle executed a legal tackle on the Force player; On the available video evidence it is clear that Ralepelle did not join a maul or ruck situation; The video evidence supports the player's account of the incident and that the citing has not been proven on the balance of probabilities.