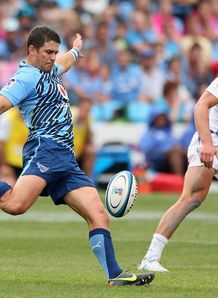 Related links
Teams
Also see
The Blue Bulls have confirmed that Springbok fly-half Mornè Steyn will join Stade Français at the end of the South African domestic season.
Steyn has signed a deal which will keep him at the Top 14 club until June 2016, but he will see out his contract with the Bulls, which expires on October 31.
Steyn was contracted to the Bulls since 2003 and has won numerous titles at Super Rugby and Currie Cup levels.
The 29-year-old pivot, who has played in 42 Tests for the Springboks, feels the time is right for a change.
"I have invested so much of my life with the Bulls, so it was a very tough decision to make," said Steyn.
"I basically owe everything I achieved in rugby to them, but the opportunity to join Stade comes at the right time in my career.
"I always wanted to play some rugby abroad and experience a different lifestyle and now have the opportunity to go and do that.
"They have been negotiating with me for a while now and I have decided not to accept the offer from the Bulls to extend my contract, but rather join Stade."
Bulls coach Frans Ludeke said Steyn leaves the Pretoria-based union with his blessing.
"I don't think anyone can doubt or question the loyalty that Mornè has shown to us," he said.
"He has given everything he had for ten years now and one cannot fault his decision to expand his horizons.
"We will forever be grateful to have a player like that in our generation and can only wish him the best.
"He will be missed as he is a world class player, but I know that he will still be giving us 110 percent till the end of his term."
High Performance Manager Xander Janse van Rensburg confirmed that the Bulls offered Steyn an extension to his contract, but could not match the Parisian offer.
"Morné also indicated to us that he will use the remainder of his time here to mentor our junior crop of flyhalves coming through, which is something we are very pleased about," said Janse van Rensburg.