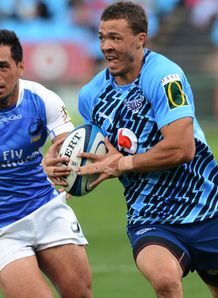 Related links
Teams
The Bulls suffered a setback, ahead of their tour to Australasia, when it was revealed that Springbok wing Bjorn Basson will be sidelined for at least two weeks.
According to the Bulls website, Basson could still join the Pretoria-based franchise on their overseas trip. He injured his ankle in the 36-26 victory over the Western Force last weekend.
However, Bok prop Dean Greyling who is also struggling with a foot injury was ruled out for another month.
There was also some good news regarding the fitness of flankers Deon Stegmann and Dewald Potgieter and utility back JJ Engelbrecht.
All three were injured in the win against the Stormers two weeks ago but are available for the tour.
Former Bok wing Akona Ndungane has also been declared fit as well as lock Wilhelm Steenkamp, who missed the start of the tournament due to a shoulder injury
Casualties from the Western Force match were Francois Hougaard (ankle), Chiliboy Ralepelle (ankle), Willie Wepener (ankle), Jacques Potgieter (head injury) and Lionel Mapoe (dead leg).
All will be fit to face the Blues in Auckland on Sunday, but Hougaard will only be tested at the captain's run on Saturday.
Marcel van der Merwe remains the only long term injury and will return to the fray in May, following his knee operation.