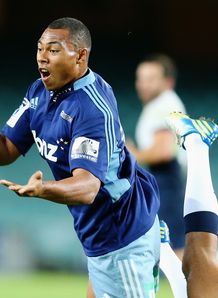 Related links
Teams
Highly-rated Blues and Junior All Blacks teenage winger Tevita Li has admitted to drink driving in New Zealand last month.
The 19-year-old was stopped by police on May 11th in Mangere, with a blood-alcohol test revealing 45 milligrams of alcohol to 100 millilitres of blood, breaking the zero alcohol limit for under 20s in New Zealand.
Li's lawyer, Richard Earwacker, said the winger would request a discharge without conviction at sentencing next month, while the Blues have dealt with the matter internally.
"It was done in-house, he was stood down against the Hurricanes," Blues boss Sir John Kirwan told stuff.co.nz.
"We see it as a minor misdemeanor, and we'll let the courts take their course now. He's pretty disappointed in himself."