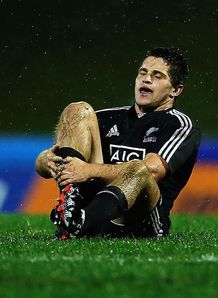 Related links
Teams
Mixed injury news for the Blues on Monday: as Francis Saili was deemed fit to return, Simon Hickey was ruled out for the season.
Saili has been kept off the pitch for some two months due to a high ankle sprain, but should be ready to face the Force on Saturday. Charles Piutau is also a week away from full fitness.
Hickey's debut Super Rugby season has come to an abrupt halt with the 20-year-old also suffering a high ankle sprain while representing New Zealand at the Junior World Championship in Auckland.
Hickey came off in the second half of New Zealand's final pool match against Scotland in Pukekohe on Tuesday, a match won 54-7 by the hosts.
New Zealand U20 Coach Chris Boyd said Hickey had suffered a high ankle sprain that will see him out of action for approximately 4-6 weeks.
"We're obviously feeling for Simon who is disappointed his tournament is done. He is an influential player of real calibre, so we are disappointed to be losing his skills and leadership on the field," said Boyd.
"Fortunately, we do have a couple of good options in players who have all had a run, and we know they will be keen to step up to the mark.
"Simon will continue to support the campaign and team from off the field so it will be fantastic to keep that support and knowledge in our environment."
Hickey has played 10 Super Rugby games for the Blues this season, leading his team in points with 124 (20 conversions and 28 penalties).