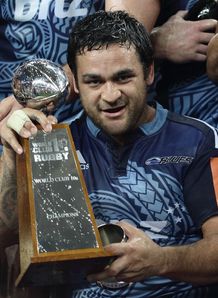 Related links
Teams
The Blues clinched the inaugural World Club 10s in Singapore on Sunday after edging out Super Rugby rivals the Brumbies 10-5 in extra time.
The Kiwi side, captained by All Blacks veteran scrum-half Piri Weepu, came from behind to clinch the tournament in the state-of-the-art new Singapore National Stadium after conceding a try by Brumbies' Conrad Hoffmann in the sixth minute.
Forward Tom McCartney broke through a resilient Brumbies backline to equalise in the second-half of the fast-paced 20-minute game, before inside-centre Jackson Willison clinched the winner with a "golden point" try in extra-time.
The tournament, which featured eight professional teams, is the first major event to be held at the Singapore arena, which is the centrepiece of a $1 billion Sports Hub complex that is opening in stages this year.
The Asia-Pacific Dragons, made up of players from the Southern hemisphere, beat the Cardiff Blues to clinch third place.
The Dragons are hoping to enter Super Rugby with the new Singapore arena as its home base.
Biarritz Olympique as well as a selection of the Samoa national side also featured in the tournament.
Organisers said nearly 11,000 people attended the two-day event, which was meant as a soft launch for the 55,000-seat stadium.
The stadium features a domed, retractable roof and air-cooled seating.
The 35-hectare (86.5-acre) Sports Hub complex also includes indoor arenas, an aquatic centre and watersports facility, and a shopping mall.
The Sports Hub will host tennis's end-of-season WTA Championships in October, is the confirmed main venue for the 2015 Southeast Asian Games, and is also likely to hold international rugby and Twenty20 cricket events, officials have said.
Its maiden football match will be on August 16, when Italian champions Juventus face a Singapore XI.