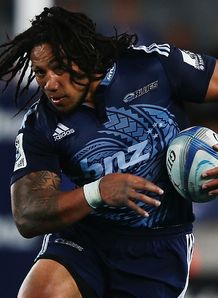 Related links
Teams
Also see
Blues centre Ma'a Nonu believes Friday's clash with the Chiefs could be a pivotal moment in his team's Super Rugby campaign.
The Blues have been in top form over the past fortnight with impressive wins over the Waratahs and Reds at Eden Park but have failed to win on the road since February last year!
With this weekend's fixture taking place in New Plymouth, it could almost be regarded as a neutral venue and offers John Kirwan's team an ideal opportunity to cut the five-point deficit with the New Zealand conference leaders.
"It's our biggest challenge yet," Nonu told Fairfax NZ News.
"We haven't won away, and that's probably a mental state. I don't know if it's our preparation, but playing away has been uncomfortable this year.
"The Chiefs are a champion side, and whoever they slot in they manage to perform. They've got a powerhouse coaching staff and a great culture down there.
"If we had managed to win once away that could have sparked something. Maybe it's in our minds. The competition is so tight you don't want those little things creeping in. I believe we can win away and this Friday is a good chance."
In terms of his own much-improved form, the All Blacks midfielder believes a new mental approach has been key.
"This year has been different. I went about the last few years trying to prove people wrong," he said.
"I need to do what I have to do to play this game. I could have given it away in terms of not staying in the country, but I still believe I've got something to contribute here in this country."
"I don't like to blow my own horn. We're winning and if I can do what I can, it's good. We're having a bit of fun, scoring a lot of tries.
"It's refreshing to play alongside young guys who are willing to learn. But we've only won our last two games, we shouldn't get ahead of ourselves."