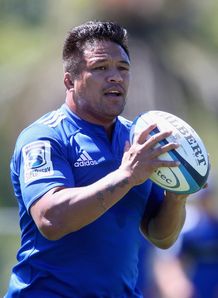 Related links
Teams
Also see
Blues hooker Keven Mealamu believes the only thing separating the best from the rest in Super Rugby is a consistent scrum.
The 34-year-old All Black number two is back for his 15th season in Super Rugby, so he knows his way around the competition.
Targeting success after a promising first season under John Kirwan in 2013, Mealamu has underlined the importance of a good but consistent platform at the scrum.
"I don't know if there were any teams that went through their competition on top of the other teams the whole time," Mealamu told Sportal NZ.
"It just takes half an inch off and you are out of it so I think it is something everyone is working on just to try and get a bit of edge and get ahead of everyone.
"But if you can really get some good consistency that is something you can really get some good set phase off because at the moment there is pressure on the half-backs to get clean ball out, so I think it is still a work in progress for everyone."
With his career showing no signs of slowing down and Mealamu playing a prominent role in New Zealand's unbeaten year, the man from Tokorua feels refreshed and ready for the new challenge of repeating the All Blacks' success from 2013.
"I had a really good break, a good chance to get the body back into one piece and I'm really motivated and looking forward to this season," added Mealamu.
"If anything I think everyone will be looking to repeat that and go to another level this year.
"It will be really tough work to make sure we can back that up again, and then get even better. "
Mealamu's former international team-mate Andrew Hore has now hung up his boots, leaving Mealamu as the more experienced option at hooker ahead of Dane Coles with a range of youngsters coming through the ranks.
"I think we've got quite a few young guys who have got a couple of years under their belt now really looking to come through and I think the competition is definitely there, it's just a matter of who is going to put their hand up, and we are all looking to put our hand up."