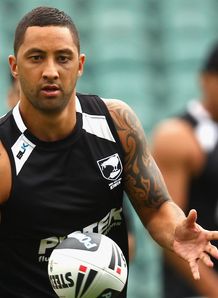 Related links
Teams
New Blues recruit Benji Marshall has hinted that he does not want to play fly-half for the Auckland-based franchise.
Marshall has arrived in New Zealand as he starts preparations for his debut season in rugby union since switching from rugby league.
It was expected that he would begin at full-back and eventually move to fly-half, but the 28-year-old revealed that the pivot position doesn't seem the best place for what he wants to do.
"I sort of want to have a bit of space and take the line on, and recapture what I think my strength is, which is running," he told New Zealand's Newstalk ZB radio station.
"Whether that's at 10, 12 or 15, I don't know, and I'm sure I'm about to find out."
Marshall said he's looking forward to working with Sir Graham Henry at the Blues who he considers one of the world's best coaches.