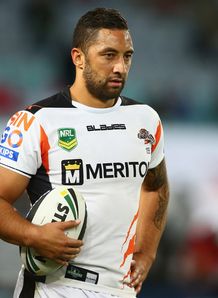 Related links
Teams
Rugby League star Benji Marshall has begun discussions with the Blues over a switch to Super Rugby next season.
Marshall announced earlier this year that he would be leaving NRL side, West Tigers.
The 28-year-old met with Blues coach Sir John Kirwan and CEO Andy Dalton on Friday to discuss the switch, telling television reporters before his arrival in Auckland that his preference would be to make the move to Eden Park.
"Preferably I'd like to come here," said Marshall to AAP.
"I've got to take into account all my options but the opportunity to maybe one day play for the All Blacks is a pretty big motivator for me.
"Obviously I'm pretty nervous about that but at the same time excited at the prospect of having the opportunity.
"I think I can play a few positions. I'd like to be in control so 10, 12 or even 15.
"It's looking promising ... if it all works out according to plan then hopefully I do end up playing here."