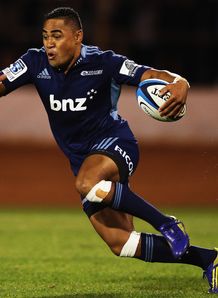 Related links
Teams
Blues centre Francis Saili has been discharged without conviction for driving while his licence was suspended.
According to Fairfax Media, Saili appeared at the Manukau District Court on Tuesday where he was also disqualified from driving for six months and ordered to pay one thousand New Zealand dollars to a road safety charity.
The 22-year-old had his driving license suspended for speeding offences, but was caught driving by police at a routine stop on April 12.
Blues management confirmed that they had also instituted disciplinary action against Saili at the time.
In sentencing, judge Jonathan Moses said the consequences of a conviction would be out of proportion to the seriousness of the offence.
Moses added that a letter from Blues coach Sir John Kirwan stated that an individual's criminal record would form part of the screening process for future selection and would have severe detrimental repercussions on his ability to work as an international rugby player.
"It is highly unlikely that you will be back before the courts for this type of offending or any other offending," Moses said.
"You have the capacity to make a positive contribution to New Zealand society in the future."
Moses said in court that Saili and his family had suffered "shame and embarrassment" over mis-reporting by the media.
It had been reported Saili had been charged with drunk driving and driving while disqualified.