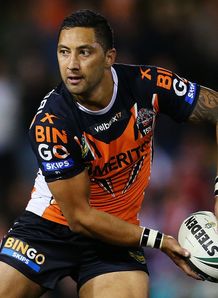 Related links
Teams
Rugby league star Benji Marshall's allegiance to New Zealand means the Blues have emerged as the favourites to gain his services when he makes his switch to rugby union.
Marshall, who has captained New Zealand's rugby league side at international level, revealed that he he won't consider playing for Australia.
This means that no Australian Super Rugby franchise can afford him.
Marshall's manager Martin Tauber was meeting with the Melbourne Rebels on Tuesday but they would need the Australian Rugby Union to contribute to the NRL stalwart's salary to have any chance of meeting his salary demands.
Tauber said Marshall only wants to play for his the country of his birth.
"If he stays here and is seeking a top-up from the ARU he would need to make himself available for the Wallabies," Tauber told AAP.
"Benji's made it quite clear that he would never do anything but wear the Silver Fern."
According to Tauber, Marshall hasn't given up on playing rugby for New Zealand, either with the All Blacks or for the Sevens side which will be among the gold medal favourites at the Rio Olympics in 2016.
To do so, he must be playing in New Zealand to be eligible for selection.
Marshall and Tauber met with Blues coach Sir John Kirwan and CEO Andy Dalton in Sydney last weekend although they were yet to receive an official offer from any Super Rugby franchise.
The ARU is understood to be keen to see Marshall play for the Rebels, who are without a high profile drawcard following the departures of Wallabies duo Kurtley Beale and James O'Connor.
Tauber said he hadn't spoken to the ARU about the possibility of Marshall receiving a promotional fee outside the salary cap.
"It's up to them to come back to us and say if he comes to the game and plays in Melbourne or wherever we will support him because of what he brings to the game by way of revenue with bums on seats, merchandising and kids wanting to play rugby because of him," he added.
"There's no question that if he went to Melbourne, what he would do for the profile of the game because he's such a marquee player, would be advantageous not only for Melbourne rugby but for Australian rugby."
Tauber said there was no urgency to sign a deal with Marshall concentrating on the remainder of the NRL season.
He said playing rugby union in Japan and France were still options.