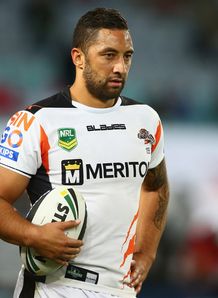 Related links
Teams
Benji Marshall's manger Martin Tauber has indicated that his client will sign for either the Waratahs or the Blues when he switches codes.
The former rugby league World Player of the Year has announced his intention to move to rugby union after asking his current league club, Sydney's West Tigers, if he could be released from his contract two years early.
The 28-year-old captained the New Zealand league team to World Cup glory, and it has been suggested that he may have what it takes to either represent New Zealand at Sevens level at the Olympics, or the All Blacks at the 2015 Rugby World Cup.
However, in order to do this he will have to play Super Rugby in New Zealand and not Australia, which may not happen.
"If he chose to go to the Waratahs, it would be because he doesn't want to move or because of the opportunities in Sydney through television and goodness knows what else," Tauber told Radio Sport.
"But I'm sure he could probably arrange and do (the same) if he made the call to live in Auckland.
"If he plays for the Waratahs, he won't play for Australia," Tauber added.
"That means his career, basically, would be a Super 15 contract and the possibility of overseas coaching or playing."