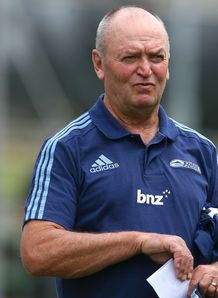 Related links
Teams
Also see
Blues assistant coach Sir Graham Henry has been cautioned by SANZAR following a misconduct hearing held on Sunday.
Henry was called before judiciary officer Jannie Lubbe SC after he made comments which were believed to have contravened Sections 8.3 (a) and (e) of the SANZAR Code of Conduct. Talking to TVNZ after his side's loss to the Crusaders, the former All Black mentor said that the TMO must have been "blind" as he did not award a try to Blues wing Frank Halai.
Henry submitted a guilty plea and as a result of a spotless record received leniency.
"Immediately after he was advised of the investigation by SANZAR into the alleged breach of the Code of Conduct, Sir Graham wrote to SANZAR and conceded that his remarks and comments were inappropriate and he apologised stating that it was never his intention to offend the officials involved," Mr Lubbe said in a statement.
"It is important that all involved in the Super Rugby competition should respect, comply and abide by the SANZAR Code of Conduct.
"In considering an appropriate sanction in matters like this, the interests of SANZAR must be taken into account.
"After careful consideration of the remarks/comments, the immediate reaction and apology, that Sir Graham has never before found himself in a situation like this and his exemplary record as a rugby coach stretching over 40 years, the DJO decided to impose the following sanction which was accepted by Sir Graham:
"1) Sir Graham Henry is reprimanded for breach of the SANZAR Code of Conduct and cautioned to refrain from such action in future;
"2) He must issue a public apology to SANZAR and the match officials involved."