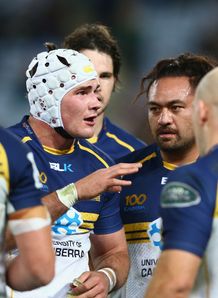 Related links
Teams
Brumbies captain Ben Mowen said his team's first half performance was decisive in Saturday's victory over the Blues in Auckland.
The Canberra-based outfit built a 14-0 lead with a strong wind behind them in the opening period then held on, with the gale in their faces, to beat their hosts 20-13.
"We definitely stuck to our game plan, which is good," he said.
"When we woke up this morning and saw the rain was coming down we felt pretty comfortable because that was how we'd planned all week.
"To come out here and play in the conditions as they were in the first half and execute out plan, I thought the guys were really good tonight."
Blues captain Ali Williams said his team's performance lacked heart.
"Conditions were difficult for both sides," he explained.
"The frustrating thing is that that was the first game we lacked a bit of passion and desire.
"That's the disappointing part. You can live with mistakes because guys are trying but tonight we should give ourselves an uppercut for the first half."