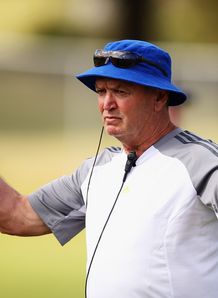 Related links
Teams
SANZAR has brought a misconduct complaint against Blues assistant coach Sir Graham Henry for comments made against match officials after his side's recent loss to the Crusaders.
Henry criticised the match officials at press conference on TVNZ News. His comments were subsequently widely reported through other media outlets and online.
The Blues suffered a 23-3 loss and the former All Blacks coach said the TMO must have been "blind" as he did not award a try to Blues wing Frank Halai.
Henry also slammed the match officials for failing to penalise Crusaders prop Wyatt Crockett for infringements in the scrums.
The complaint has been referred to SANZAR duty judicial officer Jannie Lubbe in accordance with Rule 10.12 of the SANZAR disciplinary rules contained in the 2013 tournament manual.
In bringing this complaint, SANZAR will allege that the comments made amount to Misconduct under Rule 10 of the SANZAR Disciplinary Rules and breach the SANZAR Code of Conduct Section 8.3 (a) and (e).
The hearing will take place via teleconference on Sunday, May 26.