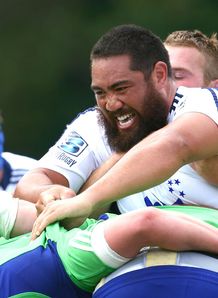 Related links
Teams
Also see
Blues prop Charlie Faumuina will miss the rest of the season, including New Zealand's three-Test series against France, due to a calf injury.
Faumuina tore a calf muscle against the Waratahs last month and was initially ruled out for between four and six weeks, but Blues coach Sir John Kirwan said the latest medical advice was that he would take up to 14 weeks to recover.
That not only ends his Super Rugby season but would also sideline him for the All Blacks' Tests against France in June, the first clash between the sides since New Zealand beat Les Bleus 8-7 in the 2011 World Cup final.
Kirwan said medics had advised that Faumuina risked suffering a recurrence of the injury if he was rushed back too soon, so Sam Prattley had been called up to replace him on the Blues' playing roster.
He said losing Faumuina was a "major blow" for the Blues, who were seventh on the ladder after three wins and three losses, but bringing him back too early could jeopardise his long-term career.
"Team doctor Stephen Kara said best case scenario for Faumuina returning was eight weeks but the worst case scenario was 14 weeks," Kirwan told the Blues' official website.
"I think if we tried to rush Charlie back, he's the type of guy that wants to help the team out so he'd push hard to get back and possibly to the detriment of his long-term career.
"He needs to get on top of this injury so keeping the team in mind and Charlie's future in mind we've decided to replace him.
"He's still going to be with us and we want to get him back as quickly as we can, but unfortunately the rules state that if you replace a player he can't come back for the season so that's a tough call but Charlie was understanding and wants to try and get back to 100 percent so that's his main goal."