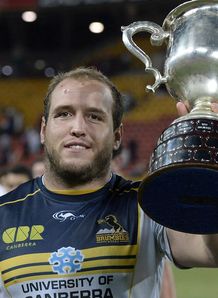 Related links
Teams
Brumbies prop Ben Alexander has expressed his desire for Super Rugby bosses to create an annual ANZAC Day fixture in Canberra.
On Friday, Alexander and his teammates will take on the Chiefs in a rematch of last year's final, with occasion marking several Anzac traditions including the Last Post before kick-off.
And the prop hopes to see the tournament organisers overcome a tricky tournament schedule to arrange a Canberra clash with a Kiwi side at this time each year.
"We want to put in a performance worthy of the Anzac spirit," Alexander told the Sydney Morning Herald.
"The way we can pay our respects is to put out a good performance. I'd love to see an annual fixture, 100 per cent.
"The Dawn Service at the War Memorial is something special and unique and I think everyone should do it at least once in their life. It's a humbling experience.
"With the Anzac centenary next year ... I think having a Super Rugby game in Canberra is something organisers should look to continue. It's hard with the travel factor. But if there's a way we could work around it, I'm all for it."