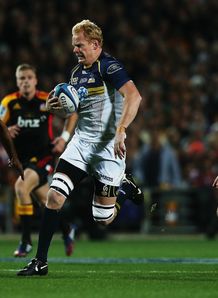 Related links
Teams
The Brumbies' proposal for national anthems of Australia and NZ to be played before their clash with the Chiefs has been rejected by Super Rugby bosses.
The Canberra-based franchise, in addition to the request for anthems, are keen for SANZAR to add an ANZAC Day fixture to the regular Super Rugby season.
A SANZAR spokesman said anthems are kept for Test matches alone, and regulations prevent their airing in Super Rugby matches.
But the occasion will not be downplayed, with The Last Post set to be played and four Victoria Cross recipients in attendance - one of whom will read The Ode.
"They refused it [the anthems], it's a blanket rule and they said if you do it once you've got to do it for every game," Brumbies chief executive Doug Edwards told the Sydney Morning Herald.
"So we move on, it's no big deal for us. I think it will be pretty special with the Last Post and all that we've got planned."
"I'm sure they'd be able to change it if they made it an annual Anzac Day fixture,'' added Brumbies scrum-half Nic White.
"I'm sure they wouldn't mind turning a blind-eye maybe for one day a year. Maybe if they knew how much it meant to everyone then maybe they might let it happen."