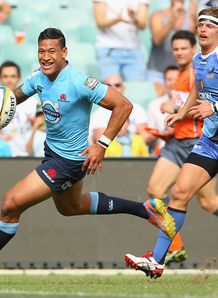 Related links
Teams
Super Rugby statistics published by Opta show that prolific full-back Israel Folau scores with every fifth touch of the ball this season.
The Waratahs star has bagged an astonishing five tries in the side's opening two games, and this is just the Wallaby's second Super Rugby campaign.
With a grudge match on Saturday against the Brumbies, it is down to the Canberra boys to figure out how to stop the seemingly inevitable.
Wendell Sailor is a man who travelled Folau's cross-code path before as a dual Australian international. Also famed for his size, strength and pace on the wing, Sailor admits it will be desperately tough for Stephen Larkham's men to keep the full-back under wraps.
"You can never take Izzy out of the game. There's no negating what he can do to you," Sailor told Fairfax Media.
"The only bad games I've seen him play were in AFL [for the GWS Giants]. You almost have to handcuff him [to stop him scoring].
"But if any one is going to stop him, it's Stephen Larkham. He was the brains [of the Wallabies] when I was playing ... but the Brumbies forwards have to own the Waratahs forwards if they want to be a chance to stop Izzy.
"At some stage, I think Izzy can be bigger than Sonny Bill, but he has to win some trophies."
Larkham himself claims the Brumbies are well aware of Folau's potency, but says they have no specific plan in place to deal with the full-back.
"We haven't [said, 'Don't kick to Folau'], we're very wary of Israel's ability to counterattack," said Larkham.
"He stands out on the field pretty well. It's everyone's responsibility [to know where he is].
"What he's shown over the last year is his ability to beat his man one-on-one. So we've really focused on that in terms of our kick chase.
"We just have to be aware where he is because he likes to get his hands on the ball. He's had a very good start to the season, but we're not just targeting one guy.
"We've spoken about [Folau] a lot this week and hopefully the talk ends in a good result."