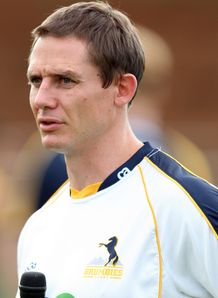 Related links
Teams
Also see
The Brumbies have opted to appoint coaching duo Stephen Larkham and Laurie Fisher in a new European-style management set-up.
Their appointments, which will officially be announced on Friday, will see Larkham taking over as head coach, while Fisher takes up a position as director of rugby.
The pair were the only candidates considered to replace the recently-departed Jake White, and rather than separate them, Brumbies bosses proposed the two-way deal.
Larkham and Fisher were backs and forwards assistants to White as the franchise reached the Super Rugby final last season, and both have signed two-year contracts.
Larkham, whose coaching career is being fast-tracked through the Brumbies ranks, insists the shared duties will not have a negative impact.
''We'll help one another ... When you've got one head coach they get dragged away from rugby a lot,'' Larkham told the Sydney Morning Herald.
''We need one message, we need the belief that comes with one message.
''We're constantly discussing ideas as a pair and we make sure that message is clear and concise to the group.''
Fisher, too, was keen to express his excitement at the new arrangement.
''It's a fantastic opportunity and a real honour," he said.
"We've tried to devise a slightly different system at the Brumbies where everyone gets to work to their strengths.
''It won't change my work ethic or desire for the team to achieve. It's also to maintain a large coaching element for myself.
''Stephen and myself, what we want for the organisation is more than what we want for ourselves. It really is about the team first and a model that allows the Brumbies to be successful.''