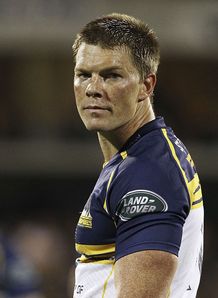 Related links
Teams
Brumbies winger Clyde Rathbone has claimed it was "poetic justice" that the Chiefs won the Super Rugby Final.
Discussing the Brumbies tactical approach in Hamilton, Rathbone believes Jake White's side failed to get the best out of their attacking players and as a result lost out to a more thrilling Chiefs outfit.
White is notorious for his Test-match tactics and Rathbone, who won a Super Rugby title with the Brumbies back in 2004, believes that the Brumbies had to be more loose in attack to take victory.
"We've (the Brumbies) got some outstanding attacking players but I don't think we got the most out of them in big games," said Rathbone to the Sydney Morning Herald.
"We played a Test-match style to strangle teams into making errors and trying to feed off those.
"It was almost poetic justice the Chiefs won -- they played the most football in the last 15 minutes. There's almost something wrong with rugby if you can win a final and not play much football.
"To win the championships you have to play football. You can choke teams out of games to the point where you can potentially win the championship ... but I don't think that's healthy for the game.
"We're in the entertainment industry, we've got to score tries. (White) is coaching in a way that gets you wins and smart coaches do that.
"The rules allow teams to play that way, we need to force teams to have to play more.
"As a winger, I probably got one touch in attack ... It's a war of attrition, you're pinning teams with field position and one percenters.
"We need to do more than that, we need to thrill crowds. In 2004 when we won the (Super Rugby) championship it was off the back of our attacking game. This year our efforts were off the back of our defence."