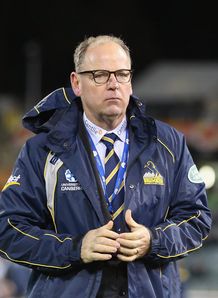 Related links
Teams
Brumbies boss Jake White had conceded that his squad will need greater depth if they are to clinch a Super Rugby title.
The Brumbies fell narrowly short in Hamilton after a lengthy journey the week before from their semi-final in Pretoria.
With White's key players fading towards the end of the second half, White conceded that developing greater depth in the squad would be key moving forward, but was proud of his team's efforts whilst also charting his side's future over the next two years.
"That's a lesson I learnt," said White.
"It just reaffirmed for me that we are going to have to get a stronger bench and make sure that bench understands the pressures that come with it [the role of substitutes].
"We have to make sure that if I put them on with 20 to go I will get a return.
"The Chiefs had shown the value of depth in their squad. They had players injured who were not even available, but had still won and that was all credit to them.
"They showed why they are a championship team, they showed why they won last year and they showed why they came first [were on top of the standings] this year as well.
"Obviously you are a bit heartsore, because you feel you could have won that.
"I could sense, everybody in the stadium felt the Brumbies could score - even when the clock said 79 minutes. I sensed that they believed they could. They were giving it a full crack to the 80th minute and you can't ask for more than that.
"It [losing in the Final] is motivation for us. We missed out on the play-offs last year, this year we lost in the Final. Who knows, maybe next year is our year.
"The ride is not over yet, we are two years into a four-year campaign."