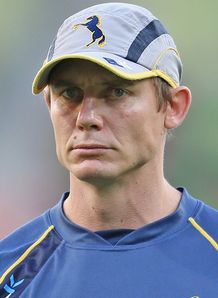 Related links
Teams
Brumbies assistant coach Stephen Larkham has told his players what to expect when they face the Cheetahs in Sunday's play-off in Canberra.
Larkham knows all about play-offs and was part of the Brumbies sides which won the Super Rugby title in 2001 and 2004.
Veteran flanker George Smith was also part of the Brumbies set-up during those victorious campaigns but apart from Clyde Rathbone, who was in the squad in 2004, Ben Mowen and Ian Prior, none of the franchise's other players have experienced the tournament's play-offs.
"It's do or die," Larkham told AAP.
"You get that intensity for the full 80 minutes, particularly the contact areas.
"Guys will throw themselves in there a little bit more.
"They're not going to hold anything back because they're not worried about injuries as it's potentially the last game of the season."
The Brumbies' build-up to the play-offs was interrupted by the British and Irish Lions' Tests series against the Wallabies which had nine of their players in their ranks.
The men from Canberra suffered a 21-15 loss to the Western Force in Perth in their final match before the knock-out phase, but Larkham is not concerned about that result.
"You look at the French in the World Cup. They got through to the final and nearly beat New Zealand, having played so poorly in the round games," he added.
"Your form beforehand doesn't really matter.
"You can change your mindset in a week quite easily in Super Rugby."