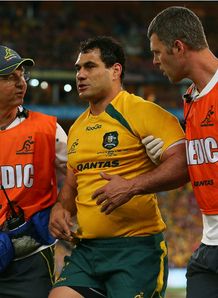 Related links
Teams
Wallabies great George Smith insists he has no ambitions of continuing his international career after Saturday's demoralising loss to the British and Irish Lions.
The Brumbies flank - who turns 33 next week - conceded that his international sign-off - first Test in four years - was one of the most painful of his 111-Test career.
Smith was flattened early on but ashtonishingly returned to the field within minutes of a heavy head clash with Lions hooker Richard Hibbard.
"Obviously I'm disappointed and devastated with the result. I didn't envisage this result to happen," said Smith, who was uncharacteristically ineffective at the breakdown after the head blow.
"It obviously affected me. You saw me snake dancing off the field. I passed the (concussion) tests that were required within those five minutes and I got out there.
"But the impact that I envisioned before the game, coming out to do it, didn't eventuate.
"That's my role to disrupt play within that breakdown area. I don't think I did that well enough.
"We gave them some quick ball. We gave them the ability to play ball and they punished us."
Smith conceded it was perhaps the first time he'd ever walked off the field feeling as he did.
"Maybe because of the magnitude of the game and what it meant to me," he said.
"I've been disappointed with losses, there's no doubt about that. But because it was such a big game and a big score as well, I'm disappointed."
Smith reiterated he was done with Test rugby and will now focus on helping the Brumbies try to win the Super Rugby title before returning to his Japanese club Suntory Sungoliath.
"I've had a great career," he said.
"I'm very fortunate to have been considered for this series as well.
"I think it's time for the young guys and the guys who have been working hard within Australian rugby to have a chance."