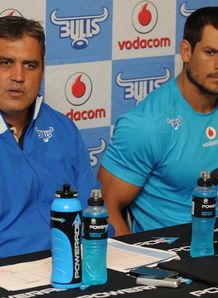 Related links
Teams
Bulls coach Frans Ludeke has queried the key decision that lead to the Brumbies 23-20 win in Canberra on Saturday.
A second-half fightback saw the Blues level the scores at 20-20 thanks to a try from JJ Englebrecht converted by Morné Steyn with time running out.
The Brumbies were then awarded a last-gasp shot at goal after referee Jonathon White's ruled that replacement Colby Faingaa had turned the ball over at the ruck, which came after Ludeke believed the Brumbies were offside.
"Clearly offside, definitely, we just looked at it," said Ludeke. "I've just seen those guys going before the ball is out, to charge Morné Steyn down, they knew Morné was going to kick.
"But you know that's the game, it would have given us another point, but that's life. We don't want to give it energy, the whole season is ahead of us, it was a great effort and we're going to go with that."
Ludeke's opposite number Jake White showed his relief at the result, highlighting how key calls can swing each way.
"The margins are so small in this competition that those sort of calls, if they go for you that's fantastic," said White.