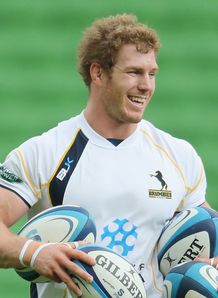 Related links
Teams
Brumbies openside flankers George Smith and David Pocock will play together at some stage of Saturday's clash with the Waratahs in Canberra.
That is the word from Brumbies coach Jake White who said Smith - who has rejoined the Brumbies on a short-term deal from Japanese club Suntory - will come off the bench to play alongside Pocock for a while, before the latter is replaced.
"It will be an opportunity for me to see what they're like together for a while, and then maybe relieve David of some duties to get ready for the next couple of tough weeks," White told AAP.
"One of the things I'm really mindful of is that David Pocock cannot play 80 minutes of rugby every single week."
The Brumbies have won nine of their last eleven matches against the Waratahs in Canberra, and are unbeaten after two matches this season.
This has prompted Waratahs coach Michael Cheika to highlight his side's underdogs status.
But White is not taking Cheika's comments seriously.
"It sounds like an ambush because it is an ambush," he said.
"The reality is I've never heard of a Waratahs team ever saying they're coming down to the Brumbies as underdogs."