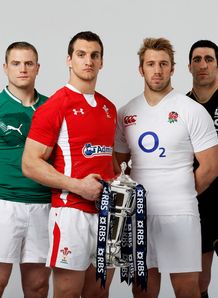 Related links
Teams
Also see
Friday night games will return to the Six Nations as Wales host France in 2014 and England in the 2015 opener at the Millennium Stadium.
The fixtures for the Six Nations 2014 and 2015 Championships have been announced and see Wales kick off their title defence against Italy in Cardiff in the first match of the 2014 Championship.
That first weekend in 2014, England will take on France in Paris while Ireland host Scotland in Dublin. The final round of matches - 'Super Saturday' - next year will see Italy host England, Wales welcome Scotland and in the third game France entertain Ireland.
"Today the Six Nations Championship is the focus of rugby and sports supporters all over the world, particularly over those seven weekends in February and March," said chairman of the Six Nations council Bill Beaumont.
"This year we saw over one million people attend the 15 matches, making it still the best attended international rugby tournament in the world on a per match basis."
2014 Six Nations: (all times GMT)
1/2 February: Wales v Italy Sat 2.30, France v England Sat 5.00, Ireland v Scotland Sun 3.00
8/9 February: Ireland v Wales Sat 2.30, Scotland v England Sat 5.00, France v Italy Sun 3.00
21/22 February: Wales v France Fri 8.00, Italy v Scotland Sat 1.30, England v Ireland Sat 4.00
8/9 March: Ireland v Italy Sat 2.30, Scotland v France Sat 5.00, England v Wales Sun 3.00
15 March: Italy v England Sat 12.30, Wales v Scotland Sat 2.45, France v Ireland Sat 5.00
2015 Six Nations: (all times GMT)
6/7 February: Wales v England Fri 8.05, Italy v Ireland Sat 2.30, France v Scotland Sat 5.00
14/15 February: England v Italy Sat 2.30, Ireland v France Sat 5.00, Scotland v Wales Sun 3.00
28 February/1 March: Scotland v Italy Sat 2.30, France v Wales Sat 5.00, Ireland v England Sun 3.00
14/15 March: Wales v Ireland Sat 2.30, England v Scotland Sat 5.00, Italy v France Sun 3.00
21 March: Italy v Wales Sat 12.30, Scotland v Ireland Sat 2.30, England v France Sat 5.00