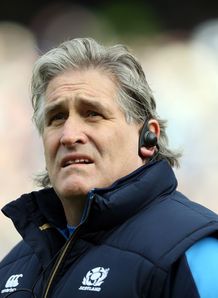 Related links
Teams
Scotland caretaker coach Scott Johnson wants his side to adopt a ruthless mentality if they want to be competitive.
Johnson's charges battled bravely before suffering a 23-16 defeat to France in Paris but he reminded his players that despite their great effort they did not achieve much.
"We have to get rid of the mentality that near enough is good enough," he said.
"We've got to learn the habit of putting sides to bed.
"There's been progress but like all things it has taken steps forward in some areas, steps backward in others. It never comes as quickly as you like it to.
"We're under no illusions where we are. The game of rugby is constantly changing as it always does and you have to take note of that and move with it."
Johnson hailed his back-line's effort against les Bleus and is optimistic about Scotland's future.
"I was really, really proud of our defence, it was superb," Johnson added.
"However, the flip side of the coin regarding our play was our kick returns were not good and that allowed the French to put us under pressure time and again.
"They have given 100 percent and I salute their resolve."