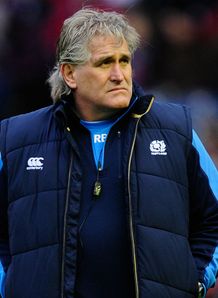 Related links
Teams
Scotland interim head coach Scott Johnson admits his side were duped in their loss to Wales last weekend at Murrayfield.
A total of 28 penalties were dished out by referee Craig Joubert, with Scotland bearing the brunt at the scrum.
"We were frustrated that we got conned at the weekend," said Johnson to The Scotsman.
"We warned everyone that some teams do these things, but I don't want to be a coach who tells his players to start diving like soccer players. I want to tell them we're going to be competitive and, if we're not good enough, we're not good enough. I don't want to start chasing rainbows by telling them to cheat.
"The scrum becomes so important, the decisions so critical, that it creates anger that adds to other areas of the game, and that stops the game flowing.
"We're not at the stage of our development to be sitting here trying to con people. We're trying to do it right. That may be the moral high ground, but New Zealand are the same. They've just been together longer and they get a reputation, and it's amazing, when you get a reputation, how often the benefit of the doubt goes to you.
"[Craig Joubert] didn't cost us the game. At no stage am I complaining about Craig. If we got him again this week, I'd welcome him.
"What we want is consistency. What is viewed as correct and what is viewed as incorrect? I can show you the stats for the referee this weekend [Welshman Nigel Owens]. They're completely opposite to the guy last weekend. Every time we get a referee, we do our due diligence on them and you would not believe how much they differ from one another. It is drastically different.
"I can spend my whole time getting the team prepared to play against X [referee], but I don't want to do that. Naive or not, this team is trying to grow, trying to get an ethic and if I change that, we're deluding ourselves."
Johnson refused to confirm whether he would continue as coach of Scotland after the conclusion of the Six Nations, stating that his situation would be reviewed at the end of the championship.
''This ride is not about me. It's about Scotland. I've got a job to do and that is to prepare for a World Cup, whether I'm there or not, " added Johnson.
"It's about Scotland. I've got a job to do and that is to prepare for a World Cup, whether I'm there or not. It's important for Scotland's development that I get that part right.
"I will review it with the appropriate people at the end of the campaign, like I said at day one. We will sit down and decide what is in the best interests of Scottish rugby."