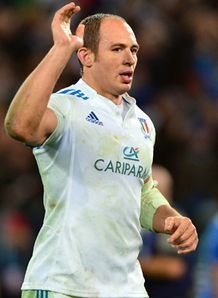 Related links
Teams
Also see
Italy captain Sergio Parisse is free to play England on Sunday after having won his appeal over a ban for insulting a referee.
The panel at Parisse's appeal hearing ruled that no insult had been made to referee Laurent Cardona during the Top 14 clash between Stade Franšais and Bordeaux, with Parisse's red card ruled as unjust.
Parisse's sentence has now been reduced by half to 20 days, making him available for Sunday's clash at Twickenham.
"Parisse will be re-activated as of Saturday, so he'll be able to play against England," said FFR Appeals Commission president Gilbert Chevrier.
Cardona accused the Argentine-born Azzurri star of insulting him in English, a charge which the multi-lingual Parisse has strongly denied.
And his charge has now been reduced from 'insulting a referee' to 'failing in his captain's duties', and he will perform community service as well as serve the 20-day ban.
The 29-year-old Parisse, who has been capped 93 times by Italy, missed the Six Nations loss to Wales in Rome and had been set to sit out the remainder of the event but will now be able to face both England and Ireland, who the Italians face in Rome on 16 March.