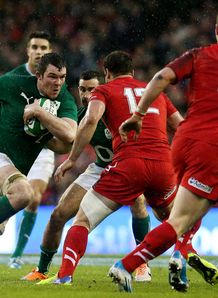 Related links
Teams
Also see
Ireland captain Paul O'Connell was full of praise for his Munster team-mate Peter O'Mahony after his superb performance against Wales.
O'Mahony scooped the Man of the Match award following his second big game in six days, as Ireland went two from two and stayed top of the Six Nations table.
O'Connell returned against Wales following a chest infection and was highly supportive of the 24-year-old flanker.
"[He was] incredible," O'Connell told the Irish Times.
"I've known Peter since he was about 18, he's always had big leadership attributes about him."
"He is a little bit like a David Wallace, he's a very powerful guy, and it has taken a small bit of time to accumulate the fitness levels required. Those powerful guys it takes them a little bit longer than the likes of myself!
"I just think he has added fitness to all the attributes he has. He's an excellent lineout jumper both defensively and in attack, he is very good on the ground. He's an excellent carrier.
"He's a very passionate guy as well. He's captaining Munster at the moment and we are obviously top of the Rabo and we've qualified for a home quarter-final so he probably has got a lot of confidence from that.
"He comes in here then and plays with the likes of Jamie, Chris Henry, Johnny, Brian and it's another step up again. He's really enjoying it at the moment. He's a great guy to play alongside."
O'Mahony's prowess at the breakdown won Ireland numerous penalties throughout their 26-3 win, providing them with dominant field position and numerous lineouts to shut Wales out of the game.
Insisting that he still has plenty of work to do, O'Mahony added there was still plenty of work to do.
"I'm getting there," said O'Mahony.
"I'm always learning. There is still a lot of work to be done. I'm far from the finished article but I'm enjoying it at the moment.
"I'm learning a lot under the new coaching staff and I'm learning a lot from the players I'm playing alongside as well."