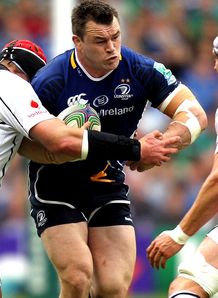 Related links
Teams
Leinster are expected to name Cian Healy in their side for the RaboDirect Pro12 clash with Treviso by using a loophole in his ban.
Healy was suspended for three weeks on Wednesday, forcing him to miss Ireland's matches against Scotland and France after his ban was deferred for this weekend on the assumption that he would not be selected by Leinster.
However with the suspension not due to start until midnight on Sunday, Leinster believe they are well within their rights to use him against Treviso.
Ireland are yet to make a decision on whether to appeal the suspension.
"Cian is certainly available. (Leinster coach) Jose Schmidt and (Ireland coach) Declan Kidney have talked about the involvement of Test players this weekend," said Leinster forwards coach Jonno Gibbes.
"Cian's available and personally I'd be delighted to involve him, he's a really big asset. He will definitely be considered.
"There's are complications for others maybe, but he's available for us. It's a game in the break of the Six Nations and he's under consideration.
"Nothing is surprising when the rugby judiciary is involved. You have to go in with an open mind because you never know what will come out of it."
The matter is far from clear however as Ireland coach Kidney has been told that the prop is not allowed to play turning the situation into a fiasco.
"Experience has taught us to wait for the written judgment or explanation to come down and we'll take it from there concerning any appeal," said Kidney, who will wait until the written judgement is published before considering an appeal.
"Let's see what's in the judgment.
"It's certainly an option that he could play for Leinster this weekend, but we've been told that he's suspended and he's not allowed to.
"Cian's had a lot going on - a lot goes on with the citings process the way it is. There would certainly be benefit in him playing given everything that's happened.
"We asked the question yesterday whether he could play this weekend and we were told no, he is suspended."