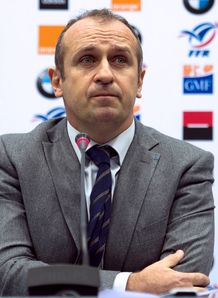 Related links
Teams
France coach Philippe Saint-André praised the collaboration between the national federation and French clubs following his side's defeat of England.
France began their Six Nations campaign in the best possible fashion Saturday with a last-gasp defeat of their keenest rivals thanks to Maxime Machenaud's conversion of Gael Fickou's try at the Stade de France.
But Saint-André insisted France's never-say-die finish wouldn't have been possible without the help of Top 14 clubs and the French Rugby Federation (FFR).
"There was an evolution, we have to congratulate the French Federation because if we hadn't had two weeks to prepare, we wouldn't have won (Saturday), I have to be clear on that," said Saint-André.
"In terms of physical intensity our players also need an intra-season break of four to five weeks.
"Also, I have to congratulate the Top 14 clubs because they didn't have their players last weekend, it's also due to this development (that France won)."
France were off to a flying start as Saint-André's gamble on debutant fly-half Jules Plisson paid dividends, the Stade Français No.10 creating the opening try inside the first minute with a clever chip over the defence for Yoann Huget to touch down.
"Jules's performance was in the image of the France team, the first 20 minutes were magisterial, magnificent, technically and tactically right.
"But then one moment he dipped, he missed a few tackles at the beginning of the second half and made some mistakes.
"But we challenged a young player to play at the top level, he lived up to it and in his first appearance for the national team to play 80 minutes, I must congratulate his mentality.
"He was the image of our team: the first 20 minutes were very good, then we were in difficulty in one-on-one situations, then showing the heart, enthusiasm and audacity to do things, to make passes and play for each other.
"Had it not been for that, we'd have never been able to turn it around. And I also want to thank the crowd for singing the Marseillaise (the national anthem) in the last 10 minutes when we were losing, they never stopped believing."
According to captain Pascal Papé, last year's trials and tribulations, in which they lost eight out of 11 internationals, were what created the strength of character to turn defeat into victory on Saturday.
"In 2013 we had a lot of disappointments, that also creates a group through bad results. We learnt lessons," he said.
"We know there's a lot to work on because we were the ones inside that game, we know where we want to be going so we'll enjoy it and then get back to work."