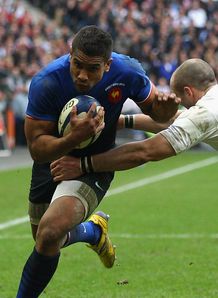 Related links
Teams
Also see
Potential Grand Slammers hosting potential Wooden Spooners? That's not the kind of billing that we've come to expect for le Crunch.
Yet those have been the reoccurring themes across the board in the media over the past fortnight. In my book, such speculation is rather premature on both counts.
Premature, certainly. Unjustified, perhaps not. The prospect of France finishing last and England going unbeaten is not unthinkable considering their remaining fixtures. But looking past this weekend would be just plain silly. Yes, I'm talking to you Joe Marler.
At least Marler admitted that "it's a bit of an English thing in most sports, getting ahead of ourselves," when he was talking up England chances of winning the World Cup. English supporters can only hope that all this Grand Slam talk hasn't infected Stuart Lancaster's camp with a sense of overconfidence the way it has others before.
Make no mistake, the French have thoughts only for Saturday, which is unsurprising considering their dismal start to the Championship, their worst in three decades. That could change very suddenly. As François Trinh-Duc noted on Thursday, "victory over England would save France's tournament."
If France lose on Saturday, it will also be the first time since 2001 that they have lost three matches in a campaign. It would also be their fifth consecutive loss in the Six Nations, making it their worst losing streak since 1958. So there will be no lack of motivation or focus in the visitors' camp. Dimitri Szarzewski has spoken of a "commando-style mission."
This clash last year proved to be a pivotal moment for England. Victory at the Stade de France all but sealed Stuart Lancaster's permanent appointment as Head Coach and finally allowed the team to put to bed the memories of that World Cup quarter-final loss to France and embark on a journey forward in a new era.
Since then, progress has been steady and Lancaster truly seems to have created an atmosphere conducive to moulding a side capable of big things. That this week's three changes have hardly caused any ripples bears testimony to the stability of the squad.
Likewise, last year's defeat to England heralded a new departure for France as Philippe Saint-André could start rebuilding his group. And so the changes began. Wesley Fofana (who at that stage had scored four tries in his first four Tests) was moved to the wing as PSA experimentation with combinations, notably his half-back duo.
A year later, the jury is out on how much progress has been made. But for the first time in a long time, PSA has picked a line-up that most French fans will be happy with, as Fofana returns to the 12 jersey and Trinh-Duc is reunited with Morgan Parra for the 20th time, equalling Pierre Albaladejo and Pierre Lacroix's record for France. That France's record for a 9-10 duo is just 20 games is worthy of a discussion for which we do not have the space here. For example, Fred Michalak has copped of lot of criticism from so-called experts who insist he is a scrum-half and shouldn't be at 10, but they fail to recall that he won two Heineken Cups for Toulouse at fly-half. I reckon this is the most balanced side France has picked this year. France also field a more experienced starting XV than England, with a total of 422 caps compared to the home side's 281.
The outstanding feature of this French side, and indeed England's team, is the addition of a lot of big men. It's seems le Crunch could be more like a demolition derby.
Lancaster has added Manu Tuilagi to his midfield and Courtney Lawes to his back-row, with similar motives to PSA's choice to call up Christophe Samson. Both coaches have talked of the size of the opposition and a lot of attention has been given to the line-outs. France have driven more than half their line-out possession in their first two games, and both teams have obviously noted the metres Ireland gained against England with that tactic in Dublin.
It's worth mentioning the referee too. Craig Joubert will officiate in his ninth Six Nations match, but his first between these sides. Joubert is to France what Bryce Lawrence is to South Africa or Wayne Barnes is to New Zealand as many French fans still hold a grudge in the wake of the infamous final 20 minutes of the World Cup Final. If les Bleus win this weekend, his reputation might be restored in France.
Players to watch:
For England: It'll be interesting to watch England's back-row which features a lock on the blindside and a flank at number eight. Tom Wood was solid in his first game at 8 in Dublin and Courtney Lawes, who starts his fist Test since the World Cup, has played 20 games on the on the side of the scrum for Northampton, but neither can be considered a specialist. Lawes will bring a significant extra presence to the line-outs and is an outstanding defender but how he and Wood combine as a unit with Chris Robshaw remains to be seen. The learning curve is set to be steep against an all-Toulouse trio in blue.
For France: At last, Wesley Fofana has a chance to shine in his preferred position. The French will hope that their hosts have been reading the papers and have bought into the hype. Indeed the biggest threat Fofana could pose is turning the attention of defenders his way in order to unleash the human wreaking ball on his outside. Castres lock Christophe Samson makes his first start for France as he wins only his second cap. He has not scored a try in professional rugby since March 2008 but with France set to focus on the set-piece, he should see plenty of action. Antonie Claassen, the son of former Springbok skipper Wynand Claassen could become the sixth South African to be capped by France if he comes off the bench.
Head-to-head: It could be one of the highlights of the year to see Mathieu Bastareaud and Manu Tuilagi face off. It won't be pretty. It'll be like a bulldozer charging into a dumptruck. 115kg Bastareaud has beaten more defenders (nine) than anyone else in this season's Championship despite only playing for 98 minutes. Tuilagi tips the scales with similar numbers and has been recalled specifically to bring his power game to midfield. BOOM! Up front, Joe Marler is in for a stern test against one of the best scrummagers in the game, Nicolas Mas. The Perpignan stalwart has been around the block a few times and is one of just two survivors from the last French team that won a Six Nations game at Twickers. Marler, for all his potential, still has a lot to learn. If he can pass this test, his stocks are set to rise even higher.
Previous results:
2012: England won 24-22 at Stade de France, Paris
2011: France won 19 -12 at Eden Park, Auckland
2011: England won 17-9 at Twickenham, London
2010 :France won 12-10 at Stade de France, Paris
2009: England won 34-10 at Twickenham, London
2008: England won 24-13 at Stade de France, Paris
2007: England won 14-9 at Stade de France, Paris (RWC)
2007: France won 22-9 at Stade Vélodrome, Marseille
2007: France won 21-15 at Twickenham, London
2007: England won 26-18 at Twickenham, London
2006: France won 31-6 at Stade de France, Paris
2005: France won 18-17 at Twickenham, London
2004: France won 24-21 at Stade de France, Paris
2003: England won 24-7 at Stadium Australia, Sydney (RWC)
2003: England won 45-14 at Twickenham, London
2003: France won 17-16 at Stade Vélodrome, Marseille
2003: England won 25-17 at Twickenham, London
2002: France won 20-15 at Stade de France, Paris
Prediction: This will be the 84th time that the two sides have met in the Six Nations with England leading the win count 44 to 32. France haven't won a Six Nations game at Twickenham since 2005 and England are looking like a very cohesive unit. Only a very brave man would get involved in a bet involving a French side with their backs against the wall but, on pure form, you have to back the hosts. England by seven points.
The teams:
England: 15 Alex Goode, 14 Chris Ashton, 13 Manu Tuilagi, 12 Brad Barritt, 11 Mike Brown, 10 Owen Farrell, 9 Ben Youngs, 8 Tom Wood, 7 Chris Robshaw (c), 6 Courtney Lawes, 5 Geoff Parling, 4 Joe Launchbury, 3 Dan Cole, 2 Dylan Hartley, 1 Joe Marler.
Replacements: 16 Tom Youngs, 17 David Wilson, 18 Mako Vunipola, 19 Thomas Waldrom, 20 James Haskell, 21 Danny Care, 22 Toby Flood, 23 Billy Twelvetrees.
France: 15 Yoann Huget, 14 Vincent Clerc, 13 Mathieu Bastareaud, 12 Wesley Fofana, 11 Benjamin Fall, 10 Francois Trinh-Duc, 9 Morgan Parra, 8 Louis Picamoles, 7 Thierry Dusautoir, 6 Yannick Nyanga, 5 Yoann Maestri, 4 Christophe Samson, 3 Nicolas Mas, 2 Benjamin Kayser, 1 Thomas Domingo
Replacements: 16 Dimitri Szarzewski, 17 Vincent Debaty, 18 Luc Ducalcon, 19 Jocelino Suta, 20 Antonie Claassen, 21 Maxime Machenaud, 22 Frederic Michalak, 23 Florian Fritz.
Date: Saturday, 23 February
Venue: Twickenham
Kick-off: 17:00 GMT
Weather: 0° C. Cold and generally cloudy with the occasional light wintry shower. Brisk, cold winds.
Referee: Craig Joubert (South Africa)
Assistant referees: John Lacey (Ireland), Leighton Hodges (Wales)
Television match official: Jim Yuille (Scotland)
By Ross Hastie
@RossisHastie