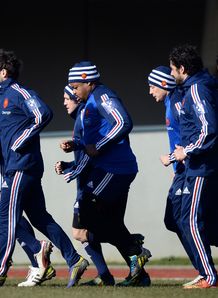 Related links
Teams
Coach Philippe Saint-André has welcomed France's underdog status in Saturday's Six Nations clash with England, saying it could work in their favour.
The pre-tournament favourites have had their worst start to the championship since 1982, but Saint-André reckons his players will thrive in their role as outsiders.
"The English will start favourites," he said.
"We will have to show all our qualities of being French on Saturday - that means being brave, daring, unpredictable and to take the fight to them.
"When we are able to do that, we are able to pose problems for any team in the world.
"To be honest, it's always a good thing when we French have our backs to the wall. That forces us to regroup and to better prepare individually for what will be a bruising contest.
"Often, the French rugby team has proved to be better when labelled as outsiders rather than favourites."
There are eight changes to the Bleus side that lost to Wales in Paris, notably in the half-backs where Morgan Parra and François Trinh-Duc replacing Maxime Machenaud and Frederic Michalak.
"After two defeats in the tournament, we wanted competition and freshness in the squad," said Saint-André said.
"We have to have the freshness and enthusiasm. We will be prepared to fight a lot in Twickenham.
"We are making logical preparations for the next World Cup," added the 45-year-old.
"And we cannot go to a World Cup with a single half-back pairing.
"We really wanted to see Francois Trinh-Duc at the start and it was not possible. In addition, they know each other well, he and Morgan Parra.
"Frederic has played a lot. He played the last six matches. It is normal that he lacks freshness. But the week of rest served him well and we will need everyone. We also wanted to take off some of the pressure."