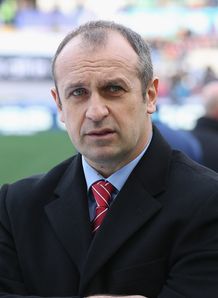 Related links
Teams
Also see
France coach Philippe Saint-André conceded that Wales had been better side following Saturday's Six Nations 16-6 defeat in Paris.
Les Bleus became the first French team since 1982 to lose their opening two games of the championship and with trips to Twickenham and Dublin still on the cards, a wooden spoon is a distinct possibility for the side that went unbeaten in the November Tests.
"We can't win the title, but we can win respect," said Saint-André in anticipation of the clash with England in a fortnight, calling on his players to display the type of resilience the Welsh had shown to end their losing streak.
"We have to accept the Welsh came here on an eight-game losing run and won and we give them credit for that. We had two clear chances to score and we didn't take them.
"We are going through a difficult time at the moment, we need to accept that. We're not inspiring anyone. Amongst other errors, we massacred the balls we managed to get through turnovers.
"But we have to work harder and lift ourselves. We will have to perform a smash-and-grab raid at Twickenham in a fortnight."
The former France captain refused to enter into a debate over whether the overloaded Top 14 programme was to blame for his player lackluster performance.
"I won't go into that here. There should be no excuses on that part," he said.
"We are in a magical competition, it's what you dream about being involved in as a player and is why I wanted to play rugby.
"The simple fact is the Welsh were more reactive, more aggressive and they outnumbered us 2-1 when it came to tackling our player with the ball.
"They stopped us from liberating the ball, something we were very good at doing back in November (when they won all three Tests, including against Australia and Argentina).
"The calendar is due to be discussed in June by the league, the federation and the players and I hope everybody shoulders his responsibilities.
"We were flying in November but now it's very tough. We are bottom of the table but we have to recover our precision and our spirit and not give up.
"We must not be scared. England at Twickenham is a fantastic challenge. You can fight for pride and show desire, and we need to do that in two weeks' time."
Skipper Thierry Dusautoir was despondent.
"Losing at home is not good, but you cannot expect to win if you cannot convert your opportunities," he said. "If we can't score when we have the ball then there is always the risk of the other team scoring."