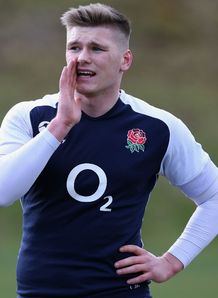 Related links
Teams
England fly-half Owen Farrell believes Saturday's Six Nations decider in Cardiff is a testament to how far his side have progressed.
Farrell missed England's narrow victory over Italy last weekend but has impressed in the other matches on route to a Grand Slam opportunity against Wales.
Citing the unity amongst the England squad as a key factor for their progress, Farrell believes that England's strength as a group will be crucial against Wales.
"Ask anybody playing in the Six Nations what he would like for the last game and it would be the chance of a Grand Slam," said Farrell to the Daily Express.
"To be in this situation from where we were at the start of the Six Nations last year is a credit to what has been put in place.
"We've come on in leaps and bounds, and feel we've progressed a lot. The more we are together, the tighter we get - a really tight-knit group who work hard for each other, not just the lads who are picked but everyone involved in the camp.
"Everyone pushes each other in a good way. It's a brilliant place to be because of that and it shows itself in matches, like in the last 10 minutes against Italy when we were defending our line.
"It doesn't really matter what people say about us on the outside as long as we are together as a group - which we are.
"That's easy enough when everyone stays on track and is helping each other. It's not about individuals but the whole team working together. We're happy with the way we've been progressing."