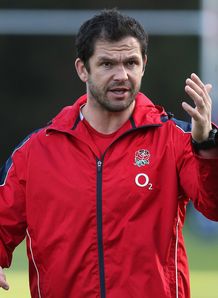 Related links
Teams
Also see
Assistant coach Andy Farrell says England are tacking former Scotland coach Jim Telfer's accusation of "arrogance" with a pinch of salt.
Telfer commented in the English press this week that Stuart Lancaster's team "are not as good as they think they are" going on to label them "arrogant...pretentious and...condescending."
But Farrell has dismissed the jibes as hackneyed cliches designed to get the Scots fired up ahead of Saturday's Calcutta Cup showdown at Twickenham, insisting that the English managment team have worked hard to eradicate any sense of arrogance in their camp
"I definitely don't recognise anything he has said," Farrell told PA Sport.
"People say this every year about the English anyway. It has stuck now. That is why we take it tongue-in-cheek. We know exactly what we are about.
"A couple of the lads have seen it and they are all taking the mick out of each other. They think it's quite funny about those who have been mentioned. There are a few jokes flying around the place.
"He's Scottish isn't he, very passionate about his country and he wants to give his lads as much belief as he can," added Farrell.
"He cares about his country. It is him trying to do the right thing by his own country, to try and motivate them.
"That is what he has always been about really - passion and stirring a few feathers up along the way. It is what you want, a bit of passion."