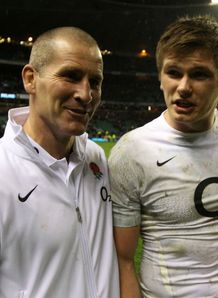 Related links
Teams
Fly-half Owen Farrell says England will start this year's Six Nations campaign in much better shape than twelve months ago.
The 21-year-old Saracens goalkicker was one of seven players that made their England debuts in last year's Calcutta Cup match - which they won 13-6 - before going on to finish second in the championship.
A year later, with far more settled group, Farrell claims England have hit the ground running in their preparations and will not experience the teething problems that were inevitable after coach Stuart Lancaster's wholesale changes to the set-up.
"As a group we feel like we have the ground running this week," said Farrell.
"Last year it was almost like starting from scratch, learning basic calls and getting to know each other and so on.
"I feel like this year we know each other, everybody gets along well and we have a great set of lads that are willing to out there and put their bodies on the line for each other."
After an impressive win over New Zealand in November, there has been talk of a first Grand Slam in 10 years but Farrell insists the squad cannot afford to look further than the opening clash with Scotland.
"It does not matter if there are expectations on us or not, we are only looking at each of the challenges," he said.
"The first challenge is Scotland, so we have got to put all our attention on that. Then the week after the challenge will be Ireland, so we will look at that and do the same. That is how we've got to do it, we've got to take it step by step."
Farrell's boot is largely to thank for Saracen's place in the Heineken Cup quarter-finals and with clashes between England and Scotland having been tight affairs in recent years, he is likely to play another important role.
But the youngster insists he feels no extra pressure to kick England in the white jersey.
"As kicker you just prepare the best that you can," he said.
"It is just another kick when you are out there. If it goes well, it goes well; if it doesn't then you move on as there is always the next kick. You just concentrate on the now."