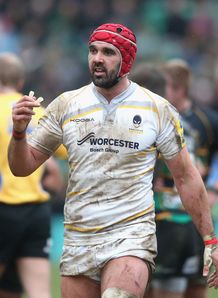 Despite being at the foot of the Premiership table, Worcester captain Jonathan Thomas believes his side must stick to their game-plan.
Former Wales back-row Thomas feels there is no need for the Warriors to panic by playing high-risk rugby even though they are winless in 16 league matches and 11 points adrift of nearest rivals Newcastle.
Thomas believes Worcester's new fly-half Ryan Lamb's creativity will boost the Sixways-based club's chances of claiming their first victory ahead of Friday's home clash with Wasps.
"You always need that element of structure but, with Lamby coming in, he provides you with that natural expression through the things he can come up with," Thomas told Worcester News.
"You don't need to go gung-ho and start chucking the ball about because Lamby is a naturally creative player.
"When we have played at our worst this season, it has been when we haven't stuck to our structure, so we do need that.
"However, the likes of Dai Lemi and Lamby can provide that expression within the structure."
Lamb echoed his captain's sentiments and hopes his flair can help change the Warriors' fortunes.
"I spoke to Dean (Ryan) at length before I came in and he doesn't want me to try to create something from nothing, but to stick to the systems they have put in place.
"Everyone knows where they are in the game, so you don't want confusion. Obviously, I have an instinct that I like to play and something might come out of that, but it's been a case of playing to the system so far."