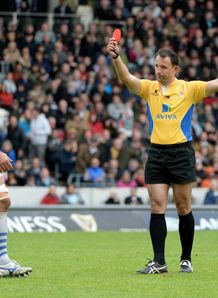 Related links
Teams
Also see
Saracens boss Mark McCall and Leicester boss Richard Cockerill both spoke out over the decision to send off Justin Melck.
Melck was shown a straight red card after the assistant referee reportedly saw the number eight make eye contact with Leicester's Neil Briggs.
Briggs revealed after no contact had been made, leaving McCall fuming at a decision that took the game away from Saracens in the 31-27 loss.
"We are hugely disappointed with the decision," said McCall.
"It seems very unusual for a touch judge, who is in the position he was in, to make that kind of call and decide not to consult the fourth official.
"Their player did not complain and subsequently said it did not happen. To make a call of that magnitude with 40 minutes left is staggering. We will look to have the decision over-turned. Justin is not that kind of player, it was a dreadful decision."
"Neil Briggs was the supposed victim and he said there was no eye-gouging," said Cockerill.
"It was just a hand across the bottom of his face. He said it was a mistake by the officials.
"I don't think Melck is a dirty player and I don't think he did it. Hopefully, it will get resolved by the authorities."
McCall added that he was happy with the response his side showed following the decision. A whole host of stars were rested by Saracens with top spot secured and the Premiership and Heineken Cup final on the horizon.
"If our very senior team had responded in that way I'd be pretty pleased. To have the team that was out there, with a number of 18,19 year olds in it and people playing for Saracens for the first time... I thought they were magnificent.
"We were disappointed with how we played in last season's semi-final.
"That disappointment has been there for 12 months, and all our focus is going to be on our preparation for Quins.
"Whatever happens the week after (Heineken Cup final v Toulon) is irrelevant. We are desperate to get through to the final."