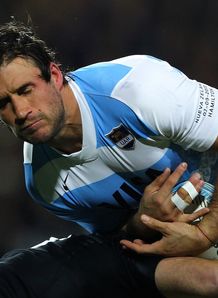 Related links
Teams
Saracens' latest signing has cited a fresh career challenge and a lifelong ambition to play in the Premiership as the motivation behind his move.
Argentine international centre Marcelo Bosch was unveiled at Allianz Park last week following the conclusion of the Rugby Championship, and was named on the bench for Friday's Heineken Cup clash with Toulouse at Wembley.
The 29-year-old joins Sarries from French side Biarritz, and divulged he had decided on the move last season.
"As soon as I heard of Saracens' interest I was sure I wanted to sign," Bosch told the Enfield Independent.
"Last year I knew inside myself that I wanted a change - I needed a new challenge and a new atmosphere.
"I had been in France for seven seasons and I wanted to change the club and the country and to have a different way of playing rugby so when Saracens came over it was perfect because Saracens are a great club."
Bosch can call to mind his watching of English rugby on television as a boy, and long-standing desire to play in the top-flight.
"When I was young it was always a dream to play in England," he said.
"I always used to watch the international matches on television and I once told my father that I would play in England when I was older - and I was right."
The centre arrived in England in March to meet up with Sarries Chief Executive Edward Griffths and Director of Rugby Mark McCall.
"Edward said to me when I first met him that Saracens are a club who try hard to make sure the players are happy not just on the pitch but off the pitch too - he said Saracens is about making memories," Bosch explained.
"Last weekend we went to Amsterdam for the weekend - so you can see the club tries hard to make the players feel good, have good memories and make the players feel happy.
"On these trips you don't just talk about rugby, you get to know your teammates as people so I'm pleased to be at a club where that is important."
The Argentine maestro is known for his versatility, having represented both club and country at full-black, fly-half and both centre positions in recent years.
But the Puma claims that outside centre is his preferred position.
"For the past few years I have played everywhere, it's a bit of a mess, but if you ask me I am most comfortable playing 13," he said.
"I think when you can play in lots of positions it gives you more of a chance to play in the first team but it's good for a player to concentrate on one position.
"Every position has different ways of playing and different routines so if you play lots of matches in one position you get used to playing in that position and you play better.
"I expect to play mainly in one position but if the team needs me elsewhere it means they want me to play so I would be happy with that too."