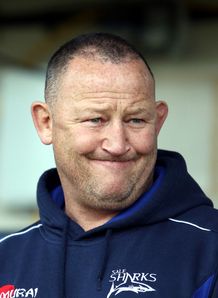 Related links
Teams
Sale boss Steve Diamond ruthlessly cut down his prop forwards after their Challenge Cup exit to Northampton Saints on Thursday.
Talented young duo Ross Harrison and Henry Thomas both started for Sale, with Aston Croall and Tony Buckley coming off the bench.
Diamond quipped that his props showed "their true colours" in a shambolic first-half performance, in which Northampton Saints scored four tries.
"A few people in our set-up have shown their true colours tonight, I don't think that we had a great performance by anybody," said Diamond.
"Our scrum didn't hold up. We've got international props who are not playing to the standard that they've been selected for internationally, so we've got to have a good look at our selection.
"We were out-enthused in the first half. At half-time we couldn't play any worse than we did in the first so it looks as if we had a good second half, but in reality we were disappointing.
"There will be some harsh words. We can put up with dropping the ball and giving penalties away, but when we're out-enthused that's one thing that hasn't happened this year."
Sale remain in contention for a playoff spot with four games to go in the Aviva Premiership this season.