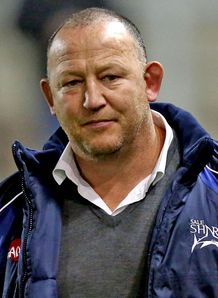 Related links
Teams
Sale boss Steve Diamond was delighted to see his squad overcome some difficult preparations to secure a one-point win over Bath.
The surprise package of the season after battling relegation this time last year, Sale are now 5th and three points behind Leicester Tigers as they chase a playoff spot.
The Sharks were made to work extremely hard in defence, especially during a drawn out period of scrums deep back on their own line when replacement tighthead Henry Thomas was sin-binned after persistent penalties.
"If you've got that much ball in that situation the onus is on the attacking side to do something with it," said Diamond.
"All we can do is defend as best we can.
"I think Henry (Thomas) was unlucky to get a yellow card - it was just a slip. I don't think the scrums went back. On another day with another referee, you never know - but it didn't happen, did it?"
Sale lost key players in Mark Cueto and Daniel Braid before the kickoff, following a tricky journey on the road down to the Rec the day before.
"We had a 10-hour journey down yesterday on the M6 and then we had our two senior players - Mark Cueto and Dan Braid - cry off in the team run, so we had our backs against the wall," added Diamond.
"As we've proved time and time again, we fought like dogs and got the result.
"Danny Cipriani and Dwayne Peel are good players. Our defence has been good all year. We managed to control their midfield, who run everything, but they ran into a white wall.
"We managed to get the spoils from either turnovers or penalties and edged our way in front."