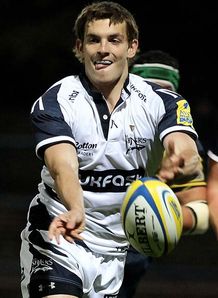 Related links
Teams
Sale Sharks scrum-half Will Cliff has signed a new deal to remain with the club, the same week after picking up an unfortunate injury.
The 24-year old damaged medial ligaments in his knee in a training-ground collision which could rule him out for the rest of the season, leaving Sale short of scrum-half cover with Dwayne Peel also out.
The Sharks remain bottom of the Premiership table, three points adrift of safety, but Cliff is delighted to be staying.
"There has been a bit of uncertainty as everyone knows where the club are right now but I wouldn't have signed so quickly if I didn't think we could stay up," said Cliff to the Manchester Evening News.
"There are a lot of local lads who have come through together and the good thing is that they have already proved they are good enough to play in the Premiership.
"Obviously, keeping that group of lads together is a big boost and hopefully we'll progress together and get further opportunities in the future.
"It helps that we're all good friends as well. We're mostly all northern lads and everyone wants to play for this club and hopefully everything will get sorted, we'll all stay here and develop as we move along.
"Sale is such a famous old club with a long history and we've seen that growing up with Sale being the nearest Premiership club to where we all live.
"It's hugely important and we feel a lot of responsibility to try and make sure the club remains in the Premiership.
"Irrespective of whether we're doing well or not, if there was one Premiership shirt you could pull on, being a northern lad it would be Sale's.
"So I'm delighted to be staying - hopefully we can keep the majority of the squad and we'll be fighting tooth and nail to ensure we stay up."
Sharks boss Steve Diamond praised Cliff for his best season so far with Sale, whilst also promising that more re-signings were on the way.
"Will's had his best season at the club and he's done really well for us," said Diamond.
"He took an unfortunate knock in training this week but he's a local lad who never lets the team down and the fact he signed a new deal is brilliant for us.
"There are three or four more to follow shortly so its onwards and upwards."